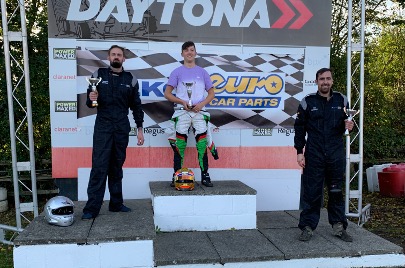 10 November 2021
The LKQ Euro Car Parts 2021 garage karting tournament has come to a "thrilling conclusion" after more than six weeks of action on the racetrack.
More than 1,200 garages from across the country took part, with 46 drivers making it to the final.
First place in the cup competition went to Ryan Willis from Station Garage Southend, closely followed by Michael Rawlings from Autosport and Phil Hampton from P Hampton Motors.
The winner of the plate competition was Matt Hearst from Everyman Racing, joined on the podium by Joseph Peachy from Maltings Garage and Matthew Batchelor from Spire Tire and Auto, who came second and third. 
And it was DBs Service and Tuning's Decio Barreto that won the Pitstop Challenge – fending off the competition to change a Formula One tyre in just nine seconds.
The finalists were kitted out with personalised racing suits and took home prizes including a range of tools for their workshops, training courses provided by LKQ Academy, Tag Heuer watches, lifestyle vouchers and more. 
Commentary came from special guests James Whitham and Keith Huewen, ex professional motorbike riders and commentators for British Super Bikes and MotoGP as seen on Eurosport and BT Sport.
The fastest lap of the day came from Darelle Wilson from DW Racing – one of 20 drivers to beat an impressive lap time set by 'The Stig'.
And now LKQ Euro Car Parts is donating £20,000 to Ben - £1,000 for every time The Stig's lap time was beaten. 
Anthony McAteer, Trading Director at LKQ Euro Car Parts, said: 
"This was the biggest and best garage karting tournament we've ever run. 
"It's been an amazing way to bring colleagues and customers together from right across the country, not just for a great time, but to share valuable knowledge and advice. And to do that while raising money for such a good cause has made it even more worthwhile. 
"The automotive sector is going through a period of huge transformation, and it's only by investing in our relationships with customers that we can be a true partner as they adapt and prepare for the future." 

Picture: 1st 2nd and 3rd in the Cup competition at the LKQ Euro Car Parts 2021 garage karting tournament 

Back