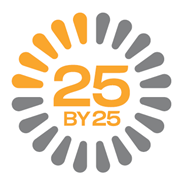 08 March 2023
LKQ Euro Car Parts has announced a new commitment to ensure that at least a quarter of its entire workforce is made up of women by the end of 2025.
The announcement comes as part of the business's extensive programme of internal and external International Women's Day celebrations this week.
The '25 by 25' commitment will be officially launched at an event for LKQ Euro Car Parts colleagues on Wednesday 8th March, hosted by Helen Robinson, LKQ Euro Car Parts' Corporate Communications Director for UK and Ireland, and featuring keynote speaker, Ije McDougall, Founder of The Kairos Initiative and a magistrate and a HR/employment law expert.
Donna Fearnley, Group HR Director at LKQ Euro Car Parts, said: "25 by 25 is an important part of our focus on Equity, Diversity and Inclusion, and our mission to create an equal and equitable environment where the best people can bring their full selves to work. Increasing gender diversity is just one of the important issues we're tackling as part of this.
"While there are more females in our business than ever before – and we know the same is true for many of our customers – as an industry, we still have a long way to go before we truly reflect, understand and best meet the needs of our end users.
"Almost a third of all cars in the UK are now registered to women. We hope that if we can better reflect today's society, our customers will feel encouraged to do the same, especially as they feel the benefits of a more diverse group of people to do business with."
LKQ Euro Car Parts has created a new a new internal taskforce dedicated to exploring cultural challenges and championing change across the business, through training, peer support, mentorship and more.
CEO Andy Hamilton and CFO Annick Jourdenais are active patrons of the Automotive 30% Club, and are translating learnings from the wider industry into LKQ Euro Car Parts, when addressing the barriers faced by women in automotive.
Donna Fearnley added: "A key challenge we have identified is unconscious bias, which is especially evident in the use of gendered language – without malintent – between colleagues. This something we're exploring as part of a new research project in 2023.
"Recent data from Deloitte suggested that 40% of women working in automotive would choose a different industry if they were starting their career again. Key players like us have a collective responsibility to get the bottom of why, and to create an equal and equitable automotive industry that women can excel in."

Back