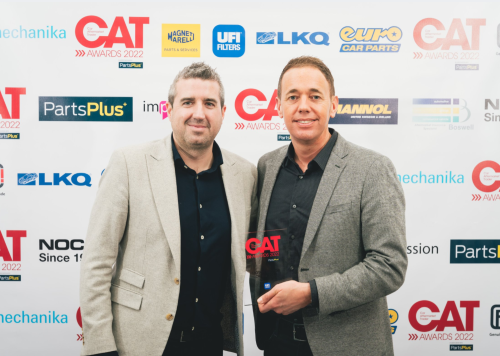 23 March 2022
LKQ Euro Car Parts is celebrating two wins at the prestigious CAT Awards 2022.
It was named 'Factor of the Year', following 12 months of expansion, investment and campaigning on behalf of the independent aftermarket.
Alongside a series of new branch openings and product launches, LKQ Euro Car Parts has worked continuously to ensure uninterrupted supplies of parts to keep garages moving in the face of severe supply chain disruption. It also spoke out on behalf of the aftermarket to call for Government action on Motor Vehicle Block Exemption Regulations (MVBER), in order to protect the competitiveness of independent garages across the UK.
Andy Hamilton, CEO of LKQ Euro Car Parts, said: "We're very pleased to have achieved this recognition at the CAT Awards. It all comes down to the hard work of our team in championing the aftermarket and its people. Our focus for the past 12 months has been to continue doing what we do best – giving garages access to all of the training, parts and support they need to thrive. But we have also worked hard to raise awareness of the biggest challenges facing the aftermarket at the highest levels, helping to drive change where it matters.
"Looking ahead, we are looking to further strengthen our role as an advocate for independent garages and their technicians."
LKQ Euro Car Parts' dedicated training division, LKQ Academy, also received this year's 'Training Award', in recognition of the Academy's busiest year yet. Its 2022 programme includes more hybrid and electric vehicle training dates than ever before, with LKQ Euro Car Parts committing to upskilling at least 3,000 technicians over the next 12 months, building on its commitment from 2021.
The factor has also been vocal on the need for technicians to upskill in key areas such as ADAS, digitalisation and customer service, to help them capture loyalty and protect growth in the years ahead.
Andy Hamilton added: "We know how critical it is that garages have access to the latest knowledge, skills and training. The ability to maximise revenue from every vehicle that comes through their doors all stems from ensuring they can provide an outstanding and comprehensive service every time."



Back